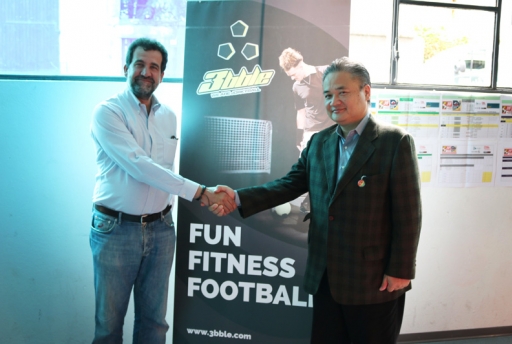 3bble and Kofu Field now work togheter
Signed an exclusive distribution agreement between the parts
3bble has signed an exclusive distribution agreement in Japan with
Kofu Field
, a Japanese company leader in the design and implementation of sport facilities.
Leonardo Giangreco, Ceo of
3bble
has commented " This distribution agreement is very important both for 3bble and for the Jorkyball International Federation for the development of
Jorkyball
in Asia.
We are very happy to partner with such a respected and long standing company as Kofu Field and I am sure that other Asian countries will soon follow Japan.
Photo:
Leonardo Giangreco Biancheri, CEO of 3bble and Mr. Hidetaka Kajiki, President of Kofu Field
shaking hands
Discover what's happening in 3bble around the world.
See all news
The rules of the game are protected by copyright
Cookies are used on this site to give you the best experience.
You can change your cookie settings or get further information on how we use cookies.
If you continue without changing your settings we will assume you are happy to receive all cookies from our site.
Continue